Get to explore everything about the Technetium valence electrons for your understanding. We are going to compile every possible detail of the element here. Technetium is a chemical element with its representative symbol as Tc. It further has the atomic number as 43 and it belongs to group 7 in the periodic table.
How many valence electrons does Technetium have?
Nearly all forms of Technetium is synthetic yet some of its forms is available within the Uranium ores. So, being the synthetic element Technetium is a highly radioactive element. Technetium is the first element, which has the recognition as the first artificially produced element. It's further the lightest synthetic element with high radioactive properties.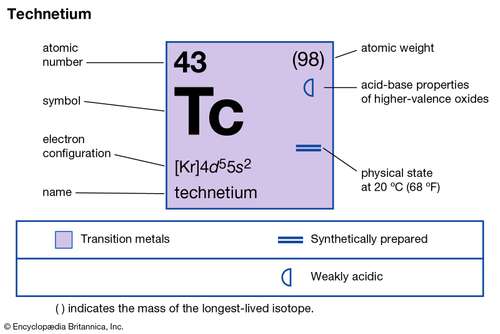 In its appearance, Technetium looks like a silvery or grayish metal. So, It closely resembles to the platinum available in the powder form. Furthermore, being a radioactive chemical element it has very limited usages. Almost all the isotopes of this chemical element are unstable to put in under safe usage.
The major use of Technetium is in building radioactive medical devices. These devices are capable of conducting the radioactive medical test on human bodies. There are some industrial or commercial usages as well of the element. The long life of Technetium brings it more significance but it's still in its research phase.
Technetium Valence Electrons Dot Diagram
Valence electrons are what make the chemical bonding for the given element. Hence valence electrons are significant for the proper analysis. Lewis dot diagram is what can show proper analysis of Technetium valence electrons. It shows the exact numbers of valence electrons of atoms.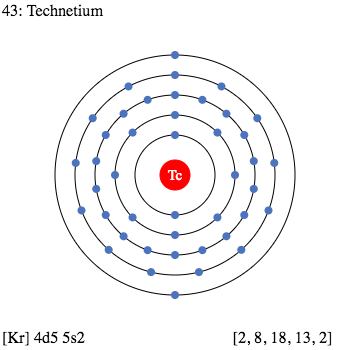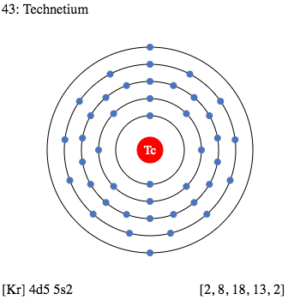 The diagram draws the dots around the symbol of Technetium as the numbers of valence electrons. Dots further represent the pattern of bonding of valence electrons.
Valency of Technetium
Well, being the transition chemical element Technetium has several oxidation states. The most common oxidation states are -1,+4,+7,+5.
The most common oxidation state of Technetium remains +7. So, you can also consider it as the valency of Technetium.