Difference Between Electronegative and Electropositive Elements: Electropositive is just a different process of electronegativity since in this process chemical elements simply lose electrons in pair. This is also known as the measure of determining the capability of given chemical element to donate electrons. In the Chemistry branch of science, both Electronegativity and Electropositive are the important terms that are primarily concerned with the periodic tables.
Difference Between Electronegative and Electropositive Elements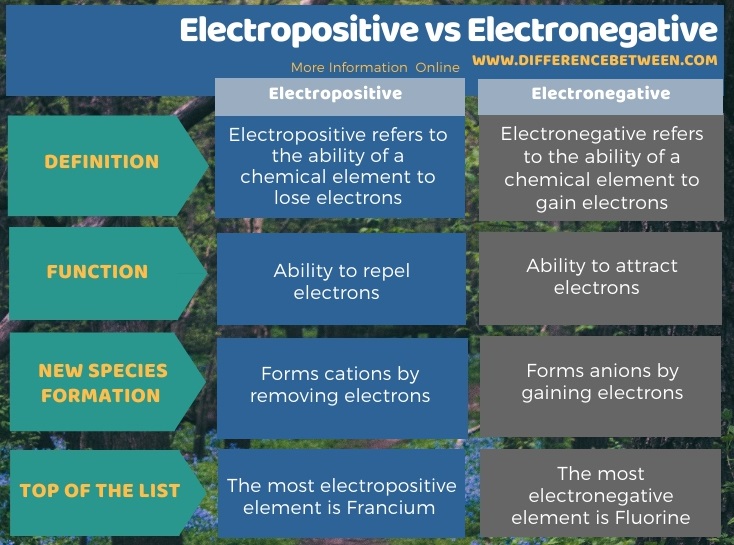 Both of these terms are however used for the chemical elements, as their properties in the periodic table, yet both of these are completely different from each-others.
Here we are going to discuss both of these terms separately and then we would try differentiating the one from another.
Electronegativity
In Chemistry, we have plenty of types for the Chemical elements and all these elements come with different atoms. Atoms are actually the aspects that decide the electronegativity of such an element.
Each atom of a chemical element has the tendency to attract electrons, which may be in a group of pairs. The higher is the electronegativity of atom the strong would be its tendency to attract electrons.
In simple words, electronegativity can be defined as one such process in which chemical elements gain electrons in pairs. This gaining ability is decided by many other factors but all in all electronegativity number defines the strength of gaining electronegativity for the element.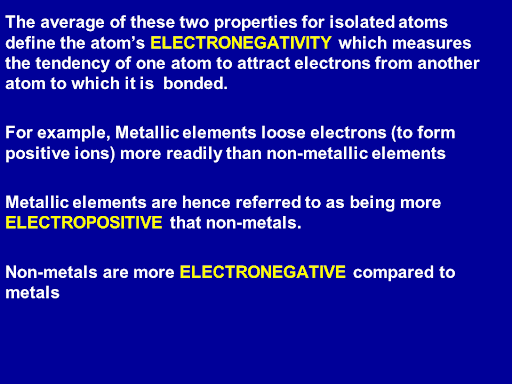 Electropositive
Almost all the metal elements around us are electropositive in nature, as they easily give away their electrons to orbitals in the outermost shell. Alkali is one such metal which has the highest electropositive properties.
Difference Between Electronegativity Vs Electropositive Chemical Elements
Both the terms Electronegativity and Electropositive have their own relevance, as one takes the electrons and the other gives it away to others.
Here is the simplified difference between both of these terms.
| | |
| --- | --- |
| Electronegative | Electropositive |
| Electronegativity refers to the process of gaining electrons by chemical elements | Electropositive is one such process in which chemical elements lose electrons |
| The negative ions are formed in this process due to the gain of electrons | Positives ions are formed in this process due to the loss of electrons |
| Non-metals elements have high electronegativity as they gain or attract electrons | All metal items are electropositive in natures as they easily remove their electrons |
| It forms anions as the natural part of gaining electrons | It forms cations as the natural part of losing electrons |
| Fluorine is the most electronegative chemical element in chemistry | Francium is the most electropositive chemical element in chemistry |